1.Enterprise Singapore has successfully facilitated close to 50 projects for Singapore companies in Africa in the last two years. 80% of these projects were undertaken by small and medium enterprises (SMEs). More local companies are turning towards Africa as the continent progressively opens up to through digitalisation, regional integration and global trade, offering opportunities across various industries. Over 60 Singapore companies are present in Africa, operating across more than 40 African countries and multiple industries.
"Africa's rapid growth and thriving digital economy offers rich opportunities for Singapore companies seeking higher growth and market diversification. We are encouraged to see our local companies, including SMEs, venturing into Africa and gaining traction there. We hope many more can tap onto platforms like the biennial Africa Singapore Business Forum and connect with our three regional offices in Africa to spark even closer business exchange and partnerships," said Mr Png Cheong Boon, Chief Executive Officer, Enterprise Singapore.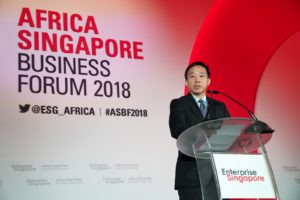 3.In addition to traditional sweet spots like oil and gas, and urban infrastructure solutions, Enterprise Singapore has identified Africa's thriving digital economy and its manufacturing industry as two new growth engines.
4. Africa's rapid urbanisation and rising middle class is driving consumption and spending. According to a McKinsey report, Africa's consumer spending is expected to reach US$2.1 trillion by 2025. Coupled with a fast growing internet economy, the continent is looking for solutions to facilitate access to global markets and ensure payment interoperability. Africa's e-commerce purchases are projected to hit US$75 billion by 2025. As Africa ramps up trade connectivity within itself and the rest of the world, Singapore companies can also offer tried and tested solutions to help modernise trade facilitation systems, digitise manual processes and improve data transparencies.
5.In the last year, Enterprise Singapore has helped more than 10 Singapore companies to break into Africa's digital technology space including e-Government services, e-commerce platforms and cross border payments.
6.Many African countries are embracing manufacturing as a key economic growth strategy to boost exports, upgrade domestic enterprise capabilities, and create higher-skilled employment. Singapore's manufacturing services companies with expertise in plant construction and design, equipment set-up, production workflow planning, quality control and testing, and skills training will be able to support manufacturers to expand production across the continent.
7.Africa's agri-food manufacturing sector for example, presents tremendous market potential for Singapore companies across the value chain – from agri-tech and food production, to food processing and packaging. Africa's food production industry is poised to be worth US$1 trillion by 2030 as the continent seeks to substitute imports with high value domestically-manufactured food. Larger local companies such as Olam, Wilmar, Tolaram and Vega Foods, have gone beyond trading and distribution, to vertically integrate agri- and food processing into their operations.
8.The growing bilateral economic ties between Singapore and Africa were further cemented with the signing of an Avoidance of Double Taxation Agreement (DTA) between Singapore and Gabon. This brings the list of DTAs that Singapore has signed with African countries to 13.
9.Enterprise Singapore supports Singapore companies expand business opportunities by connecting them to local networks and working closely with African governments to create a business-friendly environment, through the three regional offices in Africa. The Nairobi overseas centre opened recently in June 2018, while the two others in Accra and Johannesburg have been in operation since 2013. Business activities in North Africa are undertaken by the Dubai overseas centre.
10.On the side-lines of ASBF 2018, the following memoranda of understanding were also inked:
i)Singapore Cooperation Enterprise and the Mozambique Investment and Export Promotion Agency to facilitate the exchange of consultancy, advisory and training services for master urban planning and Special Economic Zones/Industrial Zones.
ii)Well & Able Holdings and Compagnie Sénégalaise de Transport Transatlantique Afrique de l'Ouest (CSTT-AO) to design and build a 9,795 square metre multimodal logistics hub in Senegal.
iii) GeTS Asia and Kenya Trade Network Agency to launch the Open Trade Blockchain platform which will improve efficiency, security and transparency of trade-related processes.
iv) Graymatics Singapore and Crescentech Limited to provide security and surveillance solutions in industries including banking, telecommunications and retail across Kenya, South Africa and Nigeria.
v) Singapore Manufacturing Federation and Egyptian Businessmen Association to accelerate business matching between Singapore and Egyptian companies.
About Enterprise Singapore
Enterprise Singapore is the government agency championing enterprise development. Our vision for Singapore is a vibrant economy with globally competitive Singapore enterprises.
International Enterprise Singapore and SPRING came together on 1 April 2018 as a single agency to form Enterprise Singapore. Our mission is to grow stronger Singapore companies by building capabilities and accessing global opportunities, thereby creating good jobs for Singaporeans.
We work with committed companies to build capabilities, innovate and internationalise. We also support the growth of Singapore as a hub for global trading and startups. As the national standards and accreditation body, we continue to build trust in Singapore's products and services through quality and standards.
Visit www.enterprisesg.gov.sg for more information 
Africa Singapore Business Forum 2018
Started in 2010, the biennial Africa Singapore Business Forum (ASBF) 2018 is the fifth edition of the event. ASBF is recognised as an important platform to foster investment, trade and thought leadership between Asia and Africa. To date, ASBF has brought together 3,000 high level business leaders and government officials from 30 countries.
Visit www.enterprisesg.gov.sg/asbf for more information.